Instant Teleseminar doesn't have a built-in registration tool, so to register people for your events, you'll need to use your email autoresponder or some other tool. 
One of the easiest tools to use is Lead Pages. Other registration tools are InstaPage, EventBrite, and ClickFunnels.  This article discusses how to use Lead Pages. 
How to Use Lead Pages to Create Event Registration Pages
Lead Pages helps you build event registration pages in a snap, whether you want to register attendees for a single event or for an entire telesummit.  Here's How:
Step 1:  Sign Up For Lead Pages Account
Click Here to sign up for your Lead Pages Account
Step 2:  Create a Lead Box or a Lead Page
Lead Box
When you create a Lead Box, you build a simple opt-in form that can be embedded on any page or appear as a popover on any page of your website.
The Lead Box interface is literally drag and drop simple: Just drag elements from the left side to the right to build the lead capture form.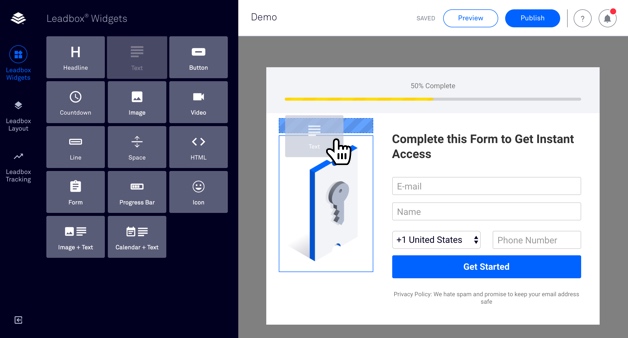 Lead Page
A Lead Page is a stand-alone web page for your webinar or teleseminar. It can be embedded on your website or be a stand-alone page hosted by Lead Pages. 
To create a lead page that's specific to webinars or teleseminars, type "webinar" into the search field, then choose from one of the dozens of templates that appears:
Step 3:  Add Your Event Details to Describe the Event or Telesummit
Finally, fill in the details for your event. You can upload your own logo and create the exact look and feel for your event and training system with Lead Pages' drag-and-drop registration tool: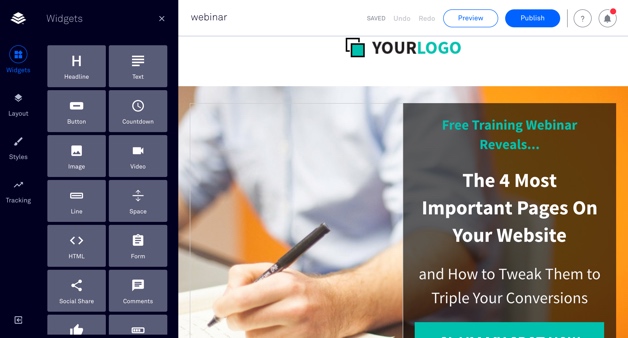 Step 4:  Download Your Leads or Connect Your Autoresponder
If you're just starting out, you can download your leads directly in spreadsheet format, then just contact them one-by-one.
If you're more advanced, you may want to connect your Autoresponder tool. Lead pages allows you to connect directly to MailChimp, iContact, Aweber, Infusionsoft, and many other tools...so it's the perfect resource to grow with you.
Click Here to Get Lead Pages Now
Helpful Links and Resources
Contact Lead Pages Support if you have questions.