The Who's Here tab (Conference Line > Conference Line Control Panel > Who's Here or Scheduled Events > Control Panel > Who's Here) is where you see all of the participants who are connected to your conference by phone line or web call. Use this page to control who can speak, manage questions, and more.
Note: Our 'Dynamic' Control Panel interface allows you to see in real time updates to your conference line, but it does require a solid internet connection with no latency problems. While you can use the Dynamic Control Panel if you're using wi-fi, or another wireless type of connection for your internet, we would recommend using a wired connection, or if not possible, try to have the best connection stability possible for your situation.
Conference Mode
The conference mode determines the default mode of who can speak and who is muted. You can change the conference mode during your event at any time to allow guests to speak or to mute their microphones.
For larger conferences (8 or more people) you will probably want to manage the conversation by switching to Lecture mode. Q&A and Party Modes are less commonly used, but also available.
When in Lecture mode, all guests are muted by default, but they can press *2 on their phone dial pads or the raised hands icon in the web call interface to let you know they have a question.
No matter the conference mode when somebody speaks, their name lights up in blue.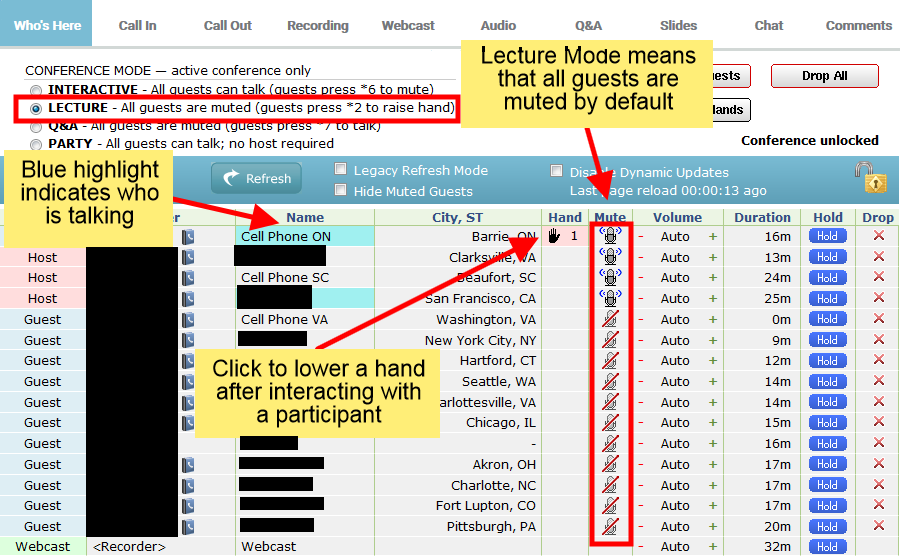 For small conferences you can usually leave this set to Interactive. Interactive mode means that all guests can openly speak, as long as a host is connected to the conference line.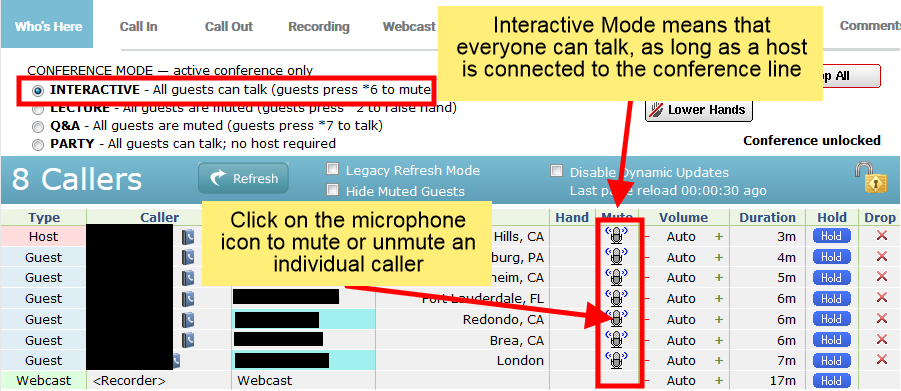 Extra Conference Controls
The buttons in the upper right of the Who's Here tab allow you to hold all guests, lower all hands, or drop all callers from the conference.
By clicking the padlock icon, you can "lock" a conference. Once locked, no new callers are allowed into the conference.

You can also raise or lower a caller's volume, place an individual caller on hold, or drop an individual caller:

Tip for answering an attendee question
First unmute the caller by clicking on the microphone icon so that they can ask you their question. When you are done talking with them, re-mute the caller, then lower their hand by clicking on it.