Instant Teleseminar has two forms of password protection: 1) the online Event Page password and 2) the Conference Line password. Both forms of password protection are detailed, below.
How to Password-Protect an Online Event Page
You can password-protect the online Event Page for an event when you first create the event under the "Advanced Options". Select the template and next to Web Password enter the password in the field provided:
If you forgot to set the password when you first set up the event, you can edit this setting by clicking Scheduled Events > the title of your event > Advanced Options.
How to Password-Protect the Phone Line
To password protect the phone line itself, click on Conference Line then choose the Conference Settings option. Enter up to 15 digits, and then click the Set button.
Caution: This password will effect ANY person trying to connect to the conference line while it is in place, including hosts.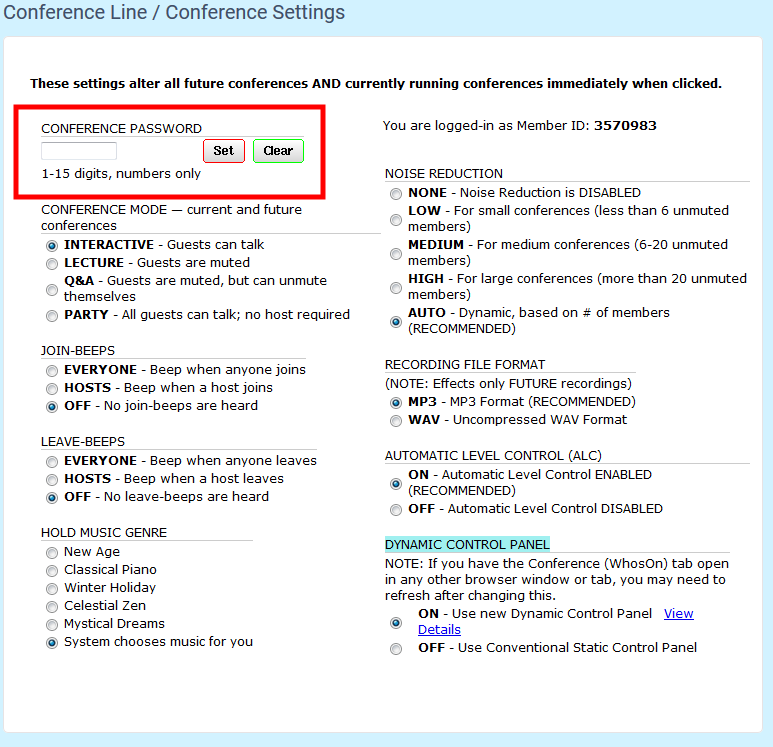 Tips on Using Passwords
You can change your password settings as often as you like.
Note that the password for the Conference Line is completely separate from the online Event Page password.
Be sure to let your attendees and any co-hosts know any passwords before event time.
If you like, you might try setting both the Conference Line and online Event Page password to the same numerical password, for ease of use for the participants.